7 Surprising Benefits of Aloe Vera Gel for Your Skin
Regarding natural skincare ingredients, aloe vera gel is a superstar. This incredible plant has been used for centuries for its healing and medicinal properties. While many of us are familiar with aloe vera for its soothing effects on sunburns, its benefits extend far beyond that. Aloe vera is a versatile ingredient that can work wonders for your skin. This article will explore seven surprising benefits of aloe vera for your skin. From moisturizing and battling acne to soothing eczema and promoting wound healing, aloe vera is a true skin savior. Get ready to discover the remarkable potential of this unique plant and unlock the secrets to healthier, more radiant skin.
1. Moisturizes the Skin
Aloe vera is a natural powerhouse when it comes to moisturizing the skin. Its gel-like consistency is packed with moisture-rich compounds, making it an excellent hydrator for dehydrated skin.
When applied topically, aloe vera gel forms a protective barrier on the skin, preventing moisture loss and locking in hydration. It penetrates deep into the skin, delivering essential nutrients and vitamins, including vitamins C and E, which promote healthy skin and retain moisture.
Aloe vera's hydrating properties help to replenish and revitalize the skin, leaving it feeling soft, supple, and nourished. It is particularly beneficial for dry or sensitive skin, as it soothes irritation and reduces flakiness.
Furthermore, aloe vera contains polysaccharides that act as natural humectants, attracting moisture from the environment and binding it to the skin. This helps to improve the skin's ability to retain water, resulting in long-lasting hydration.
Whether used as a standalone moisturizer or incorporated into skincare products such as creams, lotions, or masks, aloe vera gel provides intense hydration without clogging pores or leaving a greasy residue. It is suitable for all skin types and can be used daily to maintain a moisturized complexion.
2. Reduces Acne
Aloe vera is highly effective in battling acne and blemishes, making it a valuable addition to skincare routines targeting acne-prone skin. Its natural properties provide several benefits for acne treatment. Firstly, aloe vera gel possesses potent anti-inflammatory properties that reduce redness, swelling, and inflammation associated with acne breakouts. It soothes irritated skin and offers relief from acne-related discomfort.
Additionally, aloe vera has antibacterial effects, inhibiting the growth of acne-causing bacteria like Propionibacterium acnes. Aloe vera helps prevent new acne breakouts and promotes clearer skin by reducing the presence of these bacteria. Its gentle exfoliating properties aid in removing dead skin cells and unclogging pores, thus reducing the likelihood of pore blockage and acne formation.
Excessive oil production often contributes to acne, but aloe vera can regulate oil levels on the skin. Its natural astringent effect helps control sebum production, minimizing excess oil and preventing clogged pores. Furthermore, aloe vera promotes scar healing and reduces the appearance of acne scars and blemishes. Its regenerative properties aid in fading post-inflammatory hyperpigmentation and improving overall skin texture.
To incorporate aloe vera into your acne-fighting routine, look for skincare products containing pure aloe vera gel or use fresh gel directly from the plant. Apply it as a spot treatment or all over the affected areas to experience the benefits. Consistency is vital in achieving clearer, blemish-free skin with the help of aloe vera.
3. Sooths Sunburns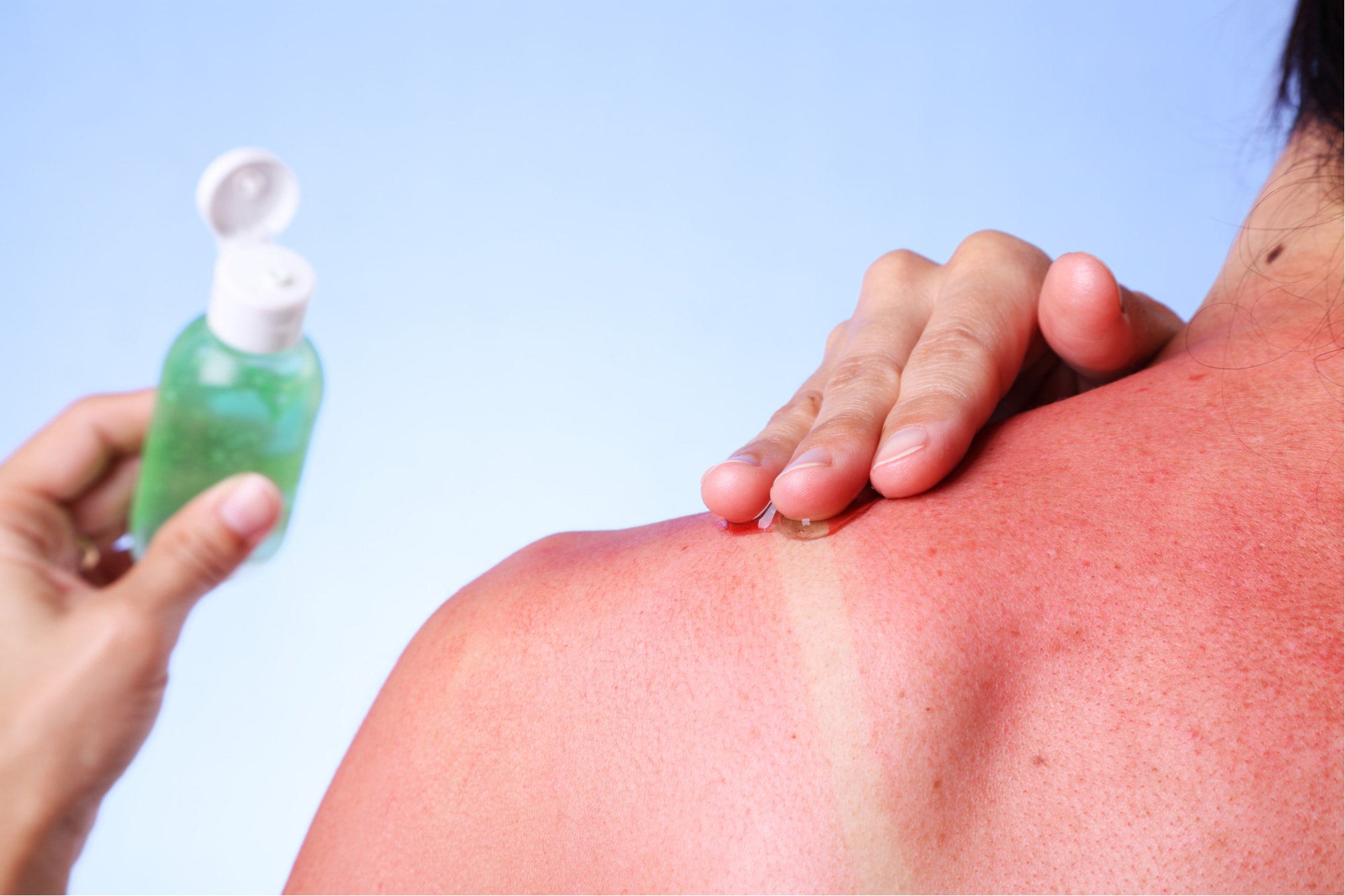 Aloe vera gel is widely recognized for its soothing properties and is often used to relieve sunburns. When applied topically, aloe vera offers several benefits for sun-damaged skin.
First and foremost, aloe vera gel has a cooling effect on the skin, which helps to alleviate the immediate discomfort and heat associated with sunburns. Its moisturizing properties help to hydrate the skin, counteracting the dryness and tightness caused by excessive sun exposure.
Aloe vera also contains anti-inflammatory compounds that reduce redness, swelling, and inflammation caused by sunburns. It helps to calm the skin and promote its healing process. The gel-like consistency of aloe vera creates a protective barrier over the sunburned area, shielding it from further damage and providing a soothing sensation.
Moreover, aloe vera gel has been found to contain antioxidants that can neutralize free radicals generated by UV radiation. This antioxidant activity helps minimize sunburn's long-term effects, such as premature aging and skin damage.
To use aloe vera for sunburn relief, apply a generous amount of pure aloe vera gel directly to the affected area. Gently massage it into the skin until absorbed. Repeat the application several times daily to soothe and hydrate the sunburned skin.
It's important to note that while aloe vera can provide temporary relief and promote healing, it's still crucial to take proper precautions to prevent sunburns in the first place. This includes wearing sunscreen, seeking shade during peak sun hours, and wearing protective clothing.
4. Help Defy Signs of Aging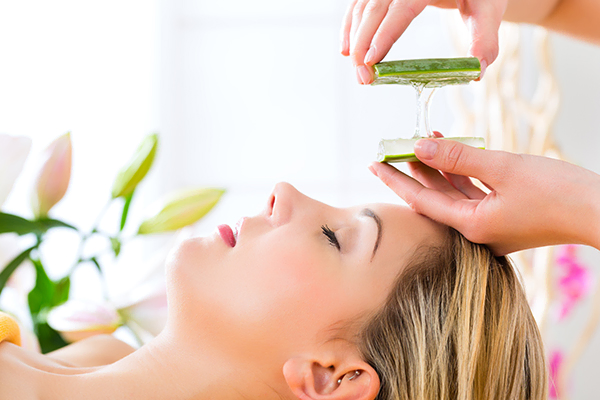 Aloe vera has been recognized for its potential to defy the signs of aging and promote youthful-looking skin.
One of the key factors contributing to the anti-aging properties of aloe vera gel is its high concentration of antioxidants. Antioxidants help combat free radicals, unstable molecules that can damage the skin cells and contribute to premature aging. By neutralizing these free radicals, aloe vera helps to protect the skin from oxidative stress and reduce the appearance of fine lines, wrinkles, and age spots.
Aloe vera is also known for its moisturizing properties, crucial for maintaining the skin's elasticity and suppleness. As we age, our skin tends to become drier and less able to retain moisture. Aloe vera helps to hydrate the skin and improve its overall moisture levels, promoting a more youthful and plump appearance.
Furthermore, aloe vera gel contains enzymes that contribute to the exfoliation of dead skin cells, allowing for the regeneration of new, healthier skin cells. This gentle exfoliation helps to improve the skin's texture and tone, reducing the appearance of dullness and promoting a more radiant complexion.
Additionally, aloe vera has been found to stimulate collagen production, a protein that plays a crucial role in maintaining the skin's structure and elasticity. By promoting collagen synthesis, aloe vera helps to improve the skin's firmness and reduce sagging, contributing to a more youthful and lifted appearance.
To harness the anti-aging benefits of aloe vera, it can be applied topically as a gel or incorporated into skincare products such as moisturizers, serums, or masks. Regular use of aloe vera can help to rejuvenate the skin, minimize the visible signs of aging, and promote a more youthful complexion.
5. Aids in Wound Healing
Aloe vera is renowned for its remarkable wound-healing properties. When applied topically, aloe vera can expedite the healing process of various wounds, including cuts, burns, and abrasions.
The gel-like substance in aloe vera leaves contains several beneficial components contributing to its wound-healing abilities. One of the critical components is a polysaccharide called acemannan, which helps to stimulate cell growth and promote the formation of new tissue. This aids in the repair and regeneration of damaged skin.
Aloe vera gel also has anti-inflammatory properties, which can help to reduce swelling and inflammation around the wound site. By minimizing inflammation, aloe vera creates an optimal environment for the healing process to occur.
Moreover, aloe vera has moisturizing properties that help to keep the wound hydrated, preventing it from drying out and forming a scab prematurely. By maintaining moisture, aloe vera supports the formation of new skin cells and minimizes the risk of scarring.
Additionally, aloe vera contains antimicrobial properties, which can help prevent wound infection. It acts as a natural barrier against bacteria and other microorganisms that could hinder healing.
To utilize the wound-healing benefits of aloe vera, applying the gel directly to the affected area is recommended. This can be done by cutting open an aloe vera leaf and extracting the gel or using commercially available aloe vera gel products. It is essential to clean the wound thoroughly before applying aloe vera to ensure optimal healing conditions.
However, it's worth noting that while aloe vera can be effective in promoting wound healing, severe or profound wounds may require medical attention and professional care. It is always advisable to consult a healthcare professional for proper evaluation and treatment of wounds.
6. Treats Psoriasis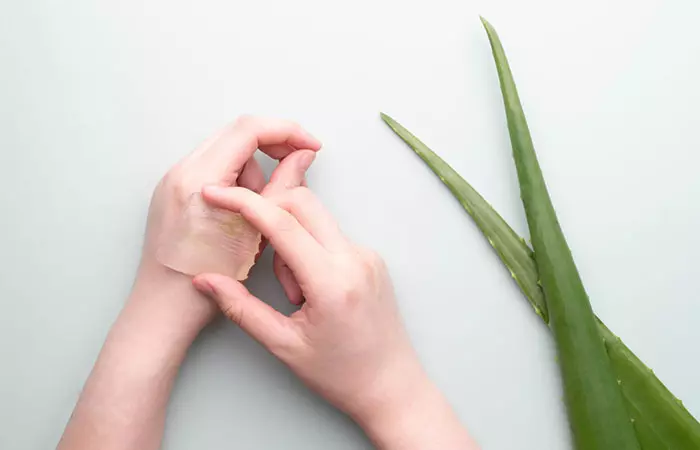 Psoriasis is a chronic skin condition characterized by red, scaly patches that can be itchy and inflamed. Aloe vera can help manage the symptoms of psoriasis in several ways.
Firstly, it acts as an excellent moisturizer, providing deep hydration to the skin and preventing excessive dryness, which is common in psoriasis. By keeping the skin moisturized, aloe vera gel reduces itchiness and discomfort.
Additionally, aloe vera gel contains anti-inflammatory compounds that can reduce redness and inflammation associated with psoriasis. It works by inhibiting the production of inflammatory chemicals in the body, leading to a calming effect on the skin and a decrease in the severity of psoriasis flare-ups.
Aloe vera also promotes the regeneration of skin cells, stimulating the growth of new, healthy cells to replace the damaged and inflamed patches characteristic of psoriasis. This can improve the overall appearance and texture of the skin affected by psoriasis.
Furthermore, aloe vera relieves itch, soothing the intense itching that often accompanies psoriasis and provides immediate comfort.
Lastly, aloe vera forms a protective barrier on the skin, shielding it from external irritants and potential infections. This is important for individuals with psoriasis, as their skin is more vulnerable to bacterial or fungal infections. The natural antibacterial and antifungal properties of aloe vera help prevent such infections, promoting overall skin health.
It's important to note that while aloe vera can be a beneficial addition to psoriasis management, it's essential to consult with a dermatologist for personalized advice and to ensure a comprehensive treatment plan that addresses your specific needs. Aloe vera is not a substitute for medical advice or prescribed medications, but it can provide relief and support as part of a holistic approach to managing psoriasis.
7. Relieves eczema
Aloe vera is a natural remedy used for centuries to soothe various skin conditions, including eczema. Eczema is a chronic inflammatory skin condition characterized by dry, itchy, and irritated patches of skin. Aloe vera has several properties that make it beneficial for relieving eczema symptoms.
Aloe vera is highly moisturizing and helps hydrate the skin, which is essential for managing eczema. The gel-like substance found in aloe vera leaves contains a high water content that can deeply penetrate the skin, providing much-needed hydration to dry and flaky eczema patches. Aloe vera helps to alleviate itching, reduce redness, and promote healing by moisturizing the skin.
Eczema is often accompanied by inflammation, which can cause itching, swelling, and discomfort. Similar to how aloe vera treats psoriasis, it compounds such as vitamins, minerals, and enzymes that have anti-inflammatory effects. When applied topically, aloe vera can help reduce inflammation and soothe the skin, relieving eczema symptoms.
Furthermore, aloe vera has been found to have antimicrobial properties, which can be beneficial for eczema-prone skin. Eczema patches are prone to bacterial and fungal infections due to the compromised skin barrier. Aloe vera can help inhibit the growth of harmful bacteria and fungi, reducing the risk of infection and promoting overall skin health.
When using aloe vera for eczema, it's important to choose pure and organic aloe vera gel or extract to minimize the risk of any potential additives or irritants that could exacerbate eczema symptoms. It's also advisable to perform a patch test before applying aloe vera to a larger skin area to check for adverse reactions.
While aloe vera can provide relief and soothing effects for eczema, it's important to note that it may not work for everyone, and individual results may vary. It's always a good idea to consult a dermatologist or healthcare professional for personalized advice and guidance on managing eczema and incorporating aloe vera into your skincare routine.
Conclusion
In conclusion, aloe vera is a versatile and effective natural remedy for various skin conditions. Its moisturizing and soothing properties make it ideal for dry and irritated skin, while its ability to combat acne, heal wounds, and relieve eczema and psoriasis is remarkable. Incorporating aloe vera gel into your skincare routine can nourish, hydrate, and protect your skin, promoting overall skin health and a radiant complexion. Choose high-quality aloe vera products, perform patch tests, and seek professional advice for personalized skincare recommendations.
Other Articles You Might Like
7 Home Beauty Secrets to Achieve Stunning Results
Homemade Hair Masks for Dry and Damaged Hair