Cheap and Easy Skincare Routine for All Skin Types: Achieve Radiant Skin on a Budget
Table of Contents
Having a simple and affordable skincare routine doesn't mean compromising on healthy and glowing skin. With the right products and a little know-how, you can create a budget-friendly skincare routine tailored to your skin type. Whether you have oily, dry, sensitive, or combination skin, we've covered cheap and easy skincare routine steps to achieve radiant skin without breaking the bank.
Step 1: Cleansing (Morning and Night)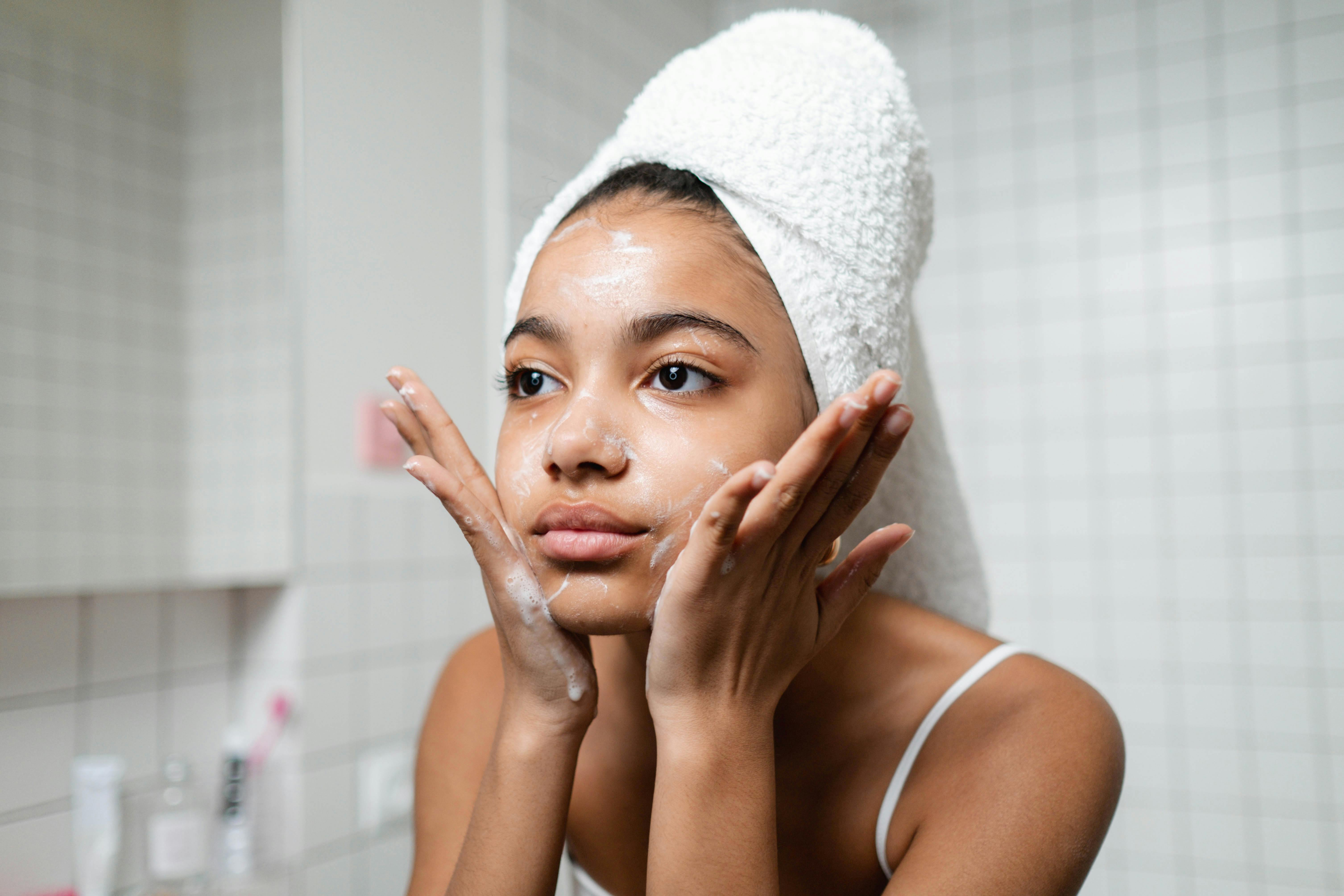 Cleansing is a crucial step in any skincare routine, as it effectively removes makeup, dirt, and impurities from your skin, leaving it refreshed and clean. For individuals with oily skin, a morning cleanse can be particularly beneficial in controlling excess oil production throughout the day. However, for those with dry or sensitive skin, cleansing in the morning can be optional, as washing your face with water alone can provide sufficient hydration and prevent over-drying. The key is to listen to your skin's needs and adjust your cleansing routine accordingly to maintain a healthy and balanced complexion.
Step 2 (Optional): Toning (Morning and Night)
Toners can be beneficial in a skincare routine, helping to balance the skin's pH levels and remove any residual impurities after cleansing. However, it's essential to note that toning is generally an optional step for all skin types. Some individuals may find their skin feels well-balanced and comfortable after cleansing and may prefer to skip toning altogether. If you decide to include a toner in your routine, look for a gentle and affordable option that caters to your skin's specific needs. Choosing a toner depends on your preferences and how your skin responds to the products you use.
Step 3 (Optional): Treatments (Morning or Night)
You can add an optional treatment step if you have specific skin concerns. Consider a budget-friendly spot treatment for acne with ingredients like benzoyl peroxide or salicylic acid. Apply it both morning and evening. To address fine lines and wrinkles, opt for an affordable retinol product for your evening routine to improve skin texture. For hyperpigmentation or dark spots, use a budget-friendly vitamin C serum in the morning to brighten your skin tone. Remember to patch-test any new treatment and introduce it gradually. Consult a dermatologist for personalized recommendations based on your skin concerns.
Step 4: Moisturizing (Morning and Night)
Moisturizing is essential for all skin types, even oily skin. Look for a lightweight and affordable moisturizer that suits your skin's needs. Oily skin types should choose an oil-free, gel-based formula, while dry skin can benefit from a nourishing cream with hyaluronic acid. For sensitive skin, opt for a fragrance-free and hypoallergenic moisturizer. Finding the right moisturizer is crucial for maintaining healthy and balanced skin, so don't be afraid to try different options to discover the perfect fit for your unique needs.
Step 5: Sunscreen (Morning)
Protecting your skin from harmful UV rays is vital. Invest in an affordable sunscreen with at least SPF 30, offering broad-spectrum protection. Opt for a lightweight, non-comedogenic formula suitable for all skin types. Remember to reapply every two hours when outdoors. Embrace sun protection for a youthful and radiant complexion. Making sun protection a daily habit will help maintain your skin's health and prevent premature aging.
Step 6: Weekly Exfoliation (1-2 Times a Week)
Incorporate exfoliation into your skincare routine to slough off dead skin cells and reveal a radiant complexion. Look for a budget-friendly exfoliant with gentle ingredients like alpha hydroxy acids (AHAs) or beta hydroxy acids (BHAs) to enhance skin renewal. However, be cautious not to over-exfoliate, as it may lead to skin irritation and sensitivity. Exfoliate your skin 1-2 times a week, adjusting the frequency based on your skin's response. This step will help unclog pores, improve skin texture, and allow other skincare products to penetrate more effectively, leaving you with a smoother and more youthful glow.
Step 7: Occasional Face Masks (Once a Week)
Treat yourself to an affordable face mask once a week to address specific skin concerns. Clay masks are great for absorbing excess oil and minimizing pores while hydrating masks can replenish dry skin. For a DIY option, you can create masks using natural ingredients from your kitchen, like honey and yogurt.
Conclusion
Achieving healthy and radiant skin doesn't require splurging on expensive products. You can have a glowing complexion without breaking the bank with a cheap and easy skincare routine tailored to your skin type. Remember that toning is optional, and choose products with skin-loving ingredients to achieve the best results. Embrace simplicity and affordability in your skincare journey and let your natural beauty shine through.
Other Articles You Might Like
K-Beauty Morning Routine Step-by-Step Guide
Daily Routine for Clear and Glowing Skin